Family First Country Estate – McGee
Published
11/15/2015 by Michael Berman
Overview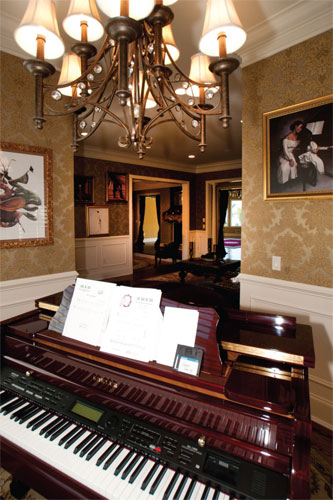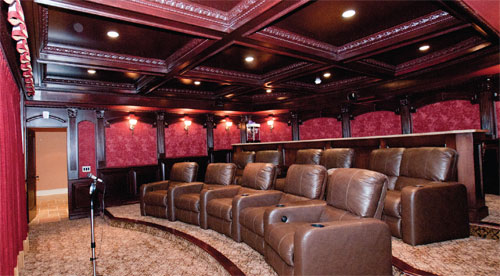 The McGees' 7,800 Square foot crowd pleaser is big enough to entertain family and friends yet is warm and inviting, reflecting the family's outgoing and friendly personality. The overall design process took nearly 10 months and the building end of the project took 15 months. Set on three magnificent acres, the results speak and live for themselves. Combining classic architectural elements with a dash of European influence, this home is timeless in almost everyway.
Wileeta and Sean McGee met while still very young. Sean was just 20 years old and a finance major at Wagner College. Wileeta grew up in Queens and was just 17 when they met in 1993. Sean's good friend Charles introduced them while attending an annual "house hop" dessert where visitors go from house to house, tasting home baked delectable treats along the way. Wileeta's grandmother is a legendary baker of a magical red velvet cake and historic sweet potato and apple pies. Charles had asked if he could bring his good friend Sean along on the "hop," and Wileeta's home was on the tasty stop list. Two years later Wileeta and Sean were married.
After marrying, the couple livedin Staten Islands ince the commute was very manageable for Wileeta who was working in New York City at the time. Sean started working in Staten Island for The College Bound Network, a company that does technology-based marketing for colleges and a company he still works for today. The McGees had their first child, Dejah, in 1995 and their second, Destiny, in 1998. Desirae, their third daughter, was born in 2000.
Before the birth of Desirae, the McGees startedto look for a bigger home for their growing family and their search led them to Jackson, New Jersey. The house, although comfortable and big enough, posed a bit of a commuting challenge for Sean, who still was happily working in Staten Island. Some days the commute might exceed three hours, Wileeta remembers, and it did not take the McGees long to start a search for a new house to call home. They settled on a beautiful spot in Colts Neck, but rented for a full year while their custom country estate home was being built.
Colts Neck offered the McGees the best of all worlds. The commute (now avoiding the dreaded Rte. 9 corridor) was much more manageable for Sean, and Colts Neck was a family friendly town that appealed to the McGees on many levels. Their familiarity with the area, since they had lived in Jackson for six years before moving to Colts Neck, made settling in easy. The family could not be happier living in the town and enjoying their family home.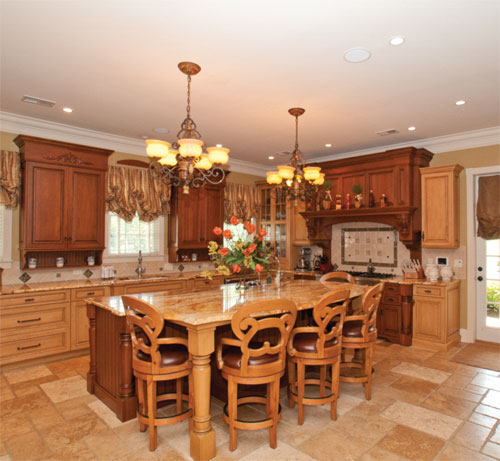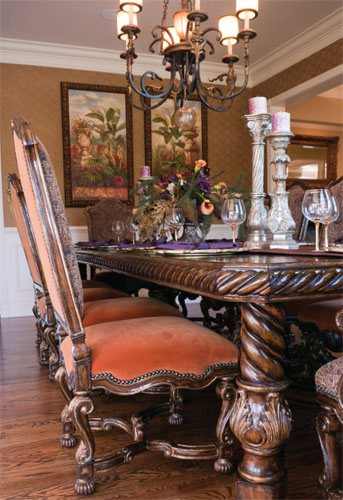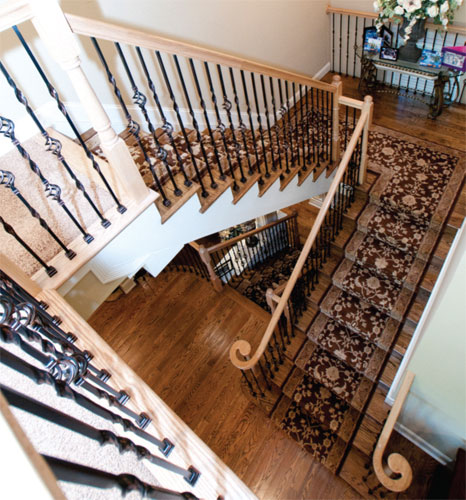 Moving into their newly finished house in 2007, the McGees have spent the last four years making this grand house their family dream home. Personal touches can be seen throughout. The grand piano and classically-inspired furnishings are pleasing to the eye and comforting to all the senses. Sean gave Wileeta a lot of freedom when it came to decorating and choosing their family home's furnishings; the beautiful results are clear to all who visit.
The accent is on family and comfort in this well-designed home. Wileeta remembers waiting for nearly a year for the dining room table and plush upholstered chairs to be handcrafted and shipped directly from Italy. These furnishings were well worth waiting for, since they add a lot of character and function to this formal dining room where old world elegance is the theme.The chairs not only look good but are quite comfortable to sit in and enjoy any family multi-course gathering.
The gourmet kitchen in the McGee house exemplifies the accent on comfort and family found throughout this well designed home. The layout is workable and the scale is manageable, featuring Travertine floors and a marble backsplash.The cabinets are two-toned, glazed American Cherry and Maple.Wileeta was careful not to oversize the work triangle and created plenty of seating at the granite covered center island, where the girls complete homework assignments and share the days events with her while she preps dinner.When asked if Sean is a good cook,Wileeta's answer was quick and to the point: "Sean likes to eat."
The main staircase in the McGee home features iron twisted spindles and oak treads.The wool carpet runner is rich and patterned, adding a lot of visual interest.The McGees' great room has been left empty except for a rich red rug and wonderfully ornate central chandelier.The see- through fireplace faces into the great room and out to the foyer, adding warmth and a central focal point to both.The reason for the empty room becomes clear when visiting theMcGee home when they are having a party.The space becomes a dance floor and play space for guests to gather and shake, rattle and roll to the McGees' music of choice.
The McGees' basement is very much a full focus living space. Sean and Wileeta believe in good health and keeping fit, whether walking on a trail at Doorbrook Park or working out at home. The sauna is a great place to relax and get the kinks out after a workout. For kicking back and enjoying a game or two (Sean is a huge football and basketball fan), the multi-screen sitting area allows for multi
ple game watching in the lap of luxury. A beautifully appointed screening room is a fan favorite when the girls want to view a family friendly feature film or try out a bit of center stage Karaoke.
The master suite is plush and comfortable. The see-through fireplace is elegant and helps get the chill out of the spacious bedroom on a cold winter's night.A beautiful sitting area is a welcome addition to this very private space and is a perfect spot to catch up on a neglected novel or daily newspaper.The wall sconces, French doors leading out to a terrace space and wet bar make this space a totally self sufficient and luxurious living area.The well appointed master bath features a massive walk in shower and custom tub design that theMcGees found on a visit to Chicago.The McGees recently purchased a summer get away home in Naples, Florida, and Wileeta is busy choosing finishes and furnishings to complete their vacation home.The results, if anything like their family home in Colts Neck, will no doubt be spectacular.