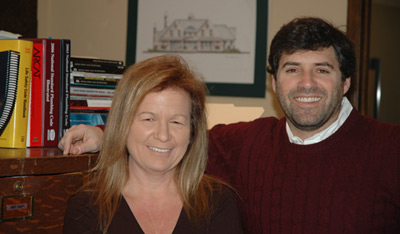 Back in the 1980's, in order to sit for the state licensing exam to become a New Jersey registered Architect, it was required of the applicant to attend a five year architecturally accredited university and then apprentice for three years under a New Jersey licensed Architect whose principle business is Architecture.
Marjorie Dopart Feldman attended the New Jersey School of Architecture at the New Jersey Institute of Technology and graduated cum laude in 1983 and then apprenticed for six years with the Biber Partnership, formerly Chapman and Biber, in Summit, New Jersey. Marjorie's experience included commercial, educational and banking facilities and high-end custom residential homes.
David H. Feldman attended Temple University and graduated in 1984. Having apprenticed during college with Scott Lepley, RA in Forked River, New Jersey, he continued his apprenticeship after graduation for two more years with the firm gaining experience in new and renovated residential and commercial architecture. David then apprenticed for six years with Arthur Manns Harden, RA, AIA in Mantoloking, New Jersey specializing in high-end oceanfront and bay front custom residential homes. Even after Superstorm Sandy, many of those homes weathered the storm and are still standing.
In 1989 at the New Jersey State Licensing Exam, Marjorie and David met. At the time, the nine section-licensing exam was only administered once a year so passing each section to become a registered architect required diligent studying to gain licensure as soon as possible. Needing a change of scenery the week before the exam, Marjorie thought that if she had to continue studying she should do so while getting tan at her family's shore house. As the story is told, when David met Marjorie at the licensing exam, he asked her where she got her tan and a dialog over the next few days of the exam ensued. David's famous line about their meeting is, "She cheated off of me" to which Marjorie loves to remind him that she was licensed a year before he was.
Feldman & Feldman Architects was founded in 1992 in Lakewood, New Jersey, moved to Brick, New Jersey in 1996, settled in Colts Neck, New Jersey in 2000 and expanded their office in Wall, New Jersey in 2018.